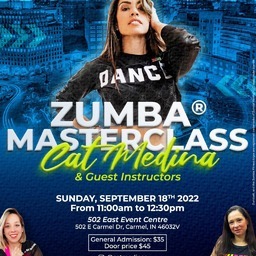 Zumba® Master Class Cat Medina
Di Zumba Masterclass Cat Medina, Carmel, IN
Deskripsi For the first time, Cat Medina is coming to Indianapolis!!!

Come and dance with us, exercise, and have fun. We'll be waiting for you.
Peserta Acara: Terbuka untuk Umum
Datang Langsung: Diterima
Bahasa Acara: English
Tiket Acara
Daftar Sekarang Tiket dijual oleh vendor lain. Anda akan diarahkan ke situs pihak ketiga.