Can't host or attend an event?
You can always make a donation to show your support. Your involvement benefits research that could ultimately save millions of lives.
Give Back
FRIENDS DON'T LET FRIENDS
FIGHT ALONE
Party in Pink™ is a global movement dedicated to raising funds for the fight against breast cancer. Through Zumbathon™ charity events hosted by licensed Zumba® instructors, we celebrate and honor our friends and family navigating breast cancer… one shuffle at a time.
A Zumbathon™ charity event is just like the Zumba class you love with the proceeds benefiting a certain cause -- in this case, breast cancer prevention. All funds raised support The Zumba Global Research Grant for Breast Cancer Prevention, managed by Susan G. Komen®.
So, grab your friends, your favorite Zumba® Wear gear, and start taking action in the fight against breast cancer by participating in a Party in Pink™ Zumbathon™ charity event. This is a team effort; every survivor needs their support squad. Let's move towards a cure!
Find an Event
Host an Event
Seeing so many women in our community affected by breast cancer, we were inspired to start The Zumba® Global Research Grant for Breast Cancer Prevention in 2013. Funds raised or donated by our passionate, committed community go directly towards this grant, which allows us to be at the forefront of breast cancer prevention.
The grant studies the effects of flaxseed consumption on pre-menopausal women through studies and clinical trials. Spearheaded by a team of renowned Komen-funded scientists at leading research institutions and fueled by our Zumba community's continued support, researchers have made strides in finding some answers to the most promising end to breast cancer - PREVENTION.
Give Back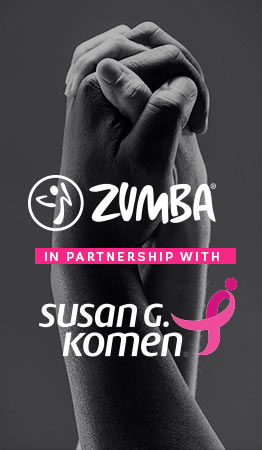 How to Support
a Survivor
As a friend or family member of someone affected by breast cancer, it's sometimes difficult to know what to do or say. But there are many ways to support a survivor. Even the smallest gesture can make a survivor feel loved, cared for and understood. There are three main types of support that can greatly increase a survivor's quality of life - informational, emotional and practical.
For more information on each type of support and ways you can help, click HERE.