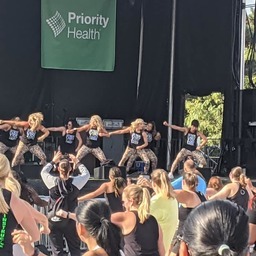 Zumbathon® Charity Event at Arts, Beats & Eats
à Arts Beats & Eats Festival, Royal Oak, MI
Description On Saturday, September 3, the Priority Health Zumbathon® Charity Event will transform the Michigan Lottery Stage at the Arts, Beats & Eats Festival into a red-hot, dance fitness party from 10 a.m. til 11:30 a.m. In past years, 1600 people participated in this SOLD OUT Zumbathon® at the festival featuring 100+ Zumba instructors from Michigan and Ohio. Tickets are $8 and proceeds will benefit a local charity, TBA.
Participants à l'événement : Ouvert au public
Participants non inscrits : Accepté
Langue de l'événement : English
Billets pour l'événement
S'INSCRIRE MAINTENANT Billets vendus par un vendeur extérieur. Vous serez redirigé vers un site tiers.
Informations sur l'instructeur