Free Shipping over $49 + Free Returns*
Amount shown is U.S. dollars for total funds raised globally.
MOVIN' TO FIND A CURE FOR ALS
ALS, also known as Lou Gehrig's disease, is a progressive motor neuron disease that robs people of the ability to move. But you can make a move to help — join the global Together We Dance™ to Cure ALS movement. 75% of ticket fees will be donated to Augie's Quest®, a nonprofit research initiative dedicated to finding treatments and cures for ALS.
Last year's campaign to raise funds for Augie's Quest® made a big difference. Total funds from Augie's Quest® allowed scientists at the ALS Therapy Development Institute to screen more than 100 molecules to see if they affected the progression of the disease. This led to a Phase II clinical trial for a cure to the disease. Because of you, last year's campaign was a huge success — and with your help, we can continue movin' to find a cure.
HOW

YOU

CAN JOIN THE MOVEMENT
ATTEND A ZUMBATHON® EVENT
Make a move to help by attending a Together We Dance
™
to Cure
ALS
Zumbathon
®
charity event. Bring your friends and get movin' for a great cause.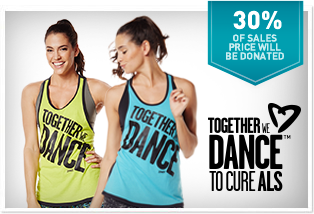 GEAR UP FOR THE CAUSE
Join the movement to cure ALS with limited edition Together We Dance™ to Cure ALS Zumba®
apparel and accessories.
MAKE A DONATION
Put your best foot forward and help fund ALS research by donating to Augie's Quest.
A Zumbathon® event is a charity event hosted by a licensed Zumba® Instructor Network member specifically aimed at raising funds for recognized 501(c)(3) charitable organizations or for other worthy causes. In connection with Zumba's "Together We Dance™ to Cure ALS" campaign benefiting Augie's Quest®, from April 10 to July 10, 2015, Zumba will donate to Augie's Quest 75% of each Zumbathon Ticket Fee collected for Zumbathon events held by members of the Zumba Instructor Network (67% in the event the Zumbathon Ticket Fee is collected via PayPal); at least 20% of each Zumbathon Ticket Fee collected in Zumbathon corporate charity events, 100% of all individual donations received, 30% of the applicable purchase price of specially-marked merchandise sold, and $10.00 per attendee of the 2015 Zumba Instructor Conference. Augie's Quest is an initiative of the ALS Therapy Development Institute, 300 Technology Square #400. Cambridge, MA 02139.

Copyright© 2015 Zumba Fitness, LLC | Zumba® and the Zumba logos are trademarks of Zumba Fitness, LLC.