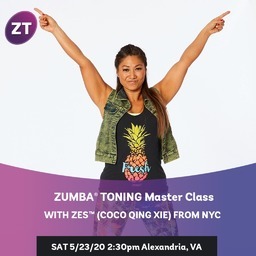 75 Minutes Zumba® Toning / Zumba® Master Class with ZES™ Coco Xie
at National Integrative Wellness Center (aka Yoga Toka), Alexandria, VA
Description Join us for this 75 mins ZUMBA TONING/ZUMBA MASTER CLASS with Zumba®Toning ZES Coco Xie from New York City!

Early Bird $15, $20 at the Door (Group Discount available)

Door opens at 8pm, Class starts at 8:30pm

Toning Sticks will be provided (Super Limited) or BRING YOUR OWN (NO MORE THAN 3lbs for weights). WE WILL ALSO BE SELLING TONING STICKES & Zumbawear.

Tickets can be purchased in person with Nancy Frances, or Venmo @coco-Xie, or PayPal to Zumbabycoco@gmail.com ($1 fee will be applies).
Event Participants: Open to Public
Walk-Ins: Accepted
Event Language: English