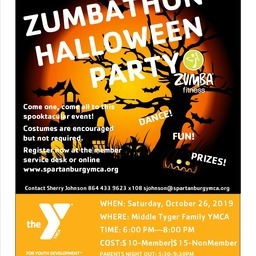 Zumbathon® Charity Event-Halloween
at Middle Tyger YMCA, Duncan, SC
Description Raising funds for the aerobics department for Middle Tyger YMCA!
Dressing up is optional and not required! Of course it will be fun if you do dress up!
Event Participants: Open to Public
Walk-Ins: Accepted
Event Language: English
Event Tickets
Register Now Tickets sold by outside vendor. You will be redirected to a third party site.