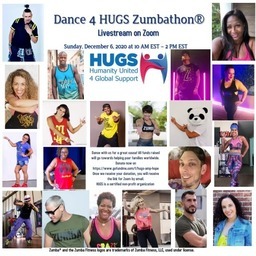 Dance 4 HUGS Zumbathon® Charity Event Live-stream
at Zoom, Philadelphia, PA
Description Dance 4 HUGS was created to continue with the Vision and Mission of H.U.G.S which it is to continue supporting our Latino community. In HUMANITY UNITED 4 GLOBAL SUPPORT, We decided to work directly with immigrants who arrived to this country and feel loss, have difficulty to adapt, feeling trapped in a vicious circle of discrimination, lack of education and poverty. We all deserve a chance to achieve our American Dream and HUGS want to help you to get there.
Event Participants: Open to Public
Walk-Ins: Accepted
Event Language: English
Event Tickets
Register Now Tickets sold by outside vendor. You will be redirected to a third party site.