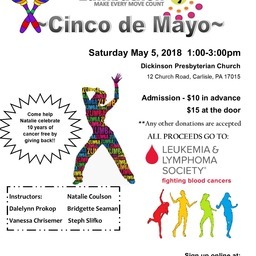 Zumbathon® Charity Event - Cinco de Mayo for Leukemia & Lymphoma Society
at Dickinson Presbyterian Church, Carlisle, PA
Description When I was 24, I was diagnosed with Hodgkin's Lymphoma. I went through rounds of chemo and radiation. On May 5, 2008, I was declared CANCER FREE. On May 5, 2018, I will be celebrating 10 years of cancer free. We all dream of a world without cancer. This Zumbathon is to raise funds to help the Leukemia & Lymphoma Society. Zumba has become a passion of mine and I want to use that passion to help a good cause that helped me during my own struggle!
Event Participants: Open to Public
Walk-Ins: Accepted
Event Language: English
Event Tickets
Register Now Tickets sold by outside vendor. You will be redirected to a third party site.