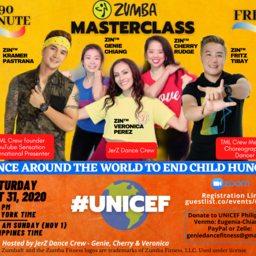 Dance Around the World to End Child Hunger Zumbathon® Charity Event #UNICEF
at ZOOM, Perth Amboy, NJ
Description It`s not how much we give, but how much love we put into giving!
Let`s make every move count by dancing together around the world in the rhythm of love and kindness to end child hunger. JerZ Dance Crew (Genie, V, Cherry) joins forces with YouTube Sensation and TML Founder, Mark Kramer Pastrana and TML Member, Fritz Tibay on a FREE Masterclass, this Oct. 31st, 2020 at 8pm(NY time) to raise funds for children in need in the Philippines. All proceeds from this event will be sent directly to UNICEF.
Event Participants: Open to Public
Walk-Ins: Accepted
Event Language: English
Event Tickets
Register Now Tickets sold by outside vendor. You will be redirected to a third party site.