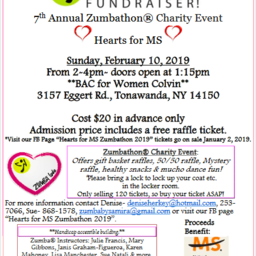 Zumbathon® Charity Event 7th Annual Zumbathon for MS 2019 "Hearts for MS"
at BAC for Women Tonawanda, Tonawanda, NY
Description A two-hour Zumbathon to benefit the MS Society! Let's help stomp out MS by dancing for two hours to Latin, international, and popular music led by 9 licensed Zumba instructors! Doors open at 1:30 pm on Sunday, February 10, 2019. Basket raffle, mystery raffle, 50/50 raffle, free healthy snacks, & more! BAC Colvin, 3157 Eggert Road, Tonawanda, NY 14150, 2-4 pm. $20 advance ticket price. This year will be a Valentine's Day theme so wear red, pink and hearts! All are cordially invited!
Event Participants: Open to Public
Walk-Ins: Not Accepted
Event Language: English
Event Tickets
Register Now Tickets sold by outside vendor. You will be redirected to a third party site.