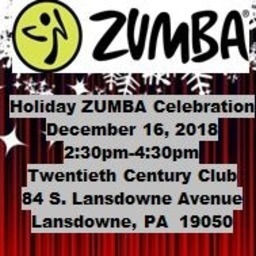 Zumba® Master Class
at Twentieth Century Club, Lansdowne, PA
Description This is a time to celebrate 2018 with our friends, family and anyone that wants to join us. I am asking if everyone could bring toiletries for Gloria's Place. They need things like lotions, socks, footies, soap, toothpaste, toothbrushes, etc. Tickets are $7. You can pay at the door or cash app me at #dancingisfun.
Event Participants: Open to Public
Walk-Ins: Accepted
Event Language: English
Event Tickets
Register Now Tickets sold by outside vendor. You will be redirected to a third party site.