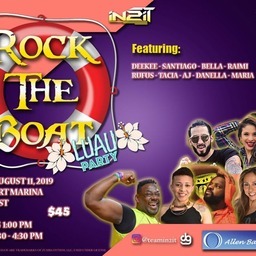 Zumba® Master Class
at New York Skyport Marina, New York, NY
Description Let's sail and dance together...

Teamin2it's Annual Rock the Boat Zumba Master class is back and this year we are doing a Luau Party!

Join Deekee, Raimi, Santiago, Bella, Tacia , AJ, Danella, Maria and Rufus on

Sunday August 11th, 2019


Tickets include: Boat ride, Zumba classes, raffle prizes, food.


Tickets are going fast!! if you are interested and need a ticket, send us a message as soon as you can.


We can't wait to see you there!
Event Participants: Open to Public
Walk-Ins: Not Accepted
Event Language: English
Event Tickets
Contact the Event Host for ticketing information