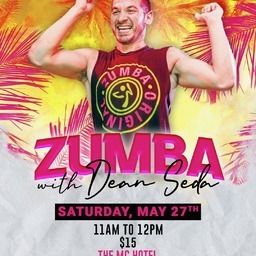 Zumba® Master Class with Dean Seda
at The MC Hotel, Montclair, NJ
Description Join Dean at the beautiful MC Hotel in Montclair, NJ to start Memorial Day Weekend with a special 1 Hour Pop-Up Zumba Class! Valet Parking is available at the Hotel for a fee. There are alternate street parking and parking deck options if you would like more economical options. Water and towels will be provided. Simply show up and get ready to dance!

Contact Dean at dean@deanseda.com if you have any questions.

Event Participants: Open to Public
Walk-Ins: Accepted
Event Language: English
Event Tickets
Register Now Tickets sold by outside vendor. You will be redirected to a third party site.