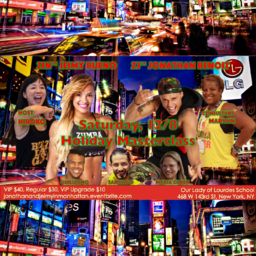 Holiday Zumba® Master Class with ZJ™ Jonathan Benoit and ZIN™ Jeimy Bueno in Manhattan
at Our Lady of Lourdes School, NYC, New York, NY
Description Holiday Zumba® Masterclass with Jonathan Benoit and Jeimy Bueno!!

ZJ™ Jonathan Benoit is the winner of Zumba® Rising Star 2017. He is also featured in ZIN 77™, which will be released on October 1st.
ZIN™ Jeimy Bueno is a Zumba® Presenter and took The XI Fitness-Concert™ stage with Beto Pérez and Jonathan at ZINCON 2018. Her amazing story has been recently featured on ZLIFE.

Part of the revenue will be donated to "Offer Hope for 300 Youth in the Dominican Republic" @ GlobalGiving.com.
Event Participants: Open to Public
Walk-Ins: Not Accepted
Event Language: English
Event Tickets
Register Now Tickets sold by outside vendor. You will be redirected to a third party site.