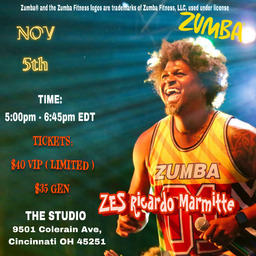 Zumba® Master Class with ZES Ricardo Marmitte in Cincinnati 2022
at The Studio in North Gate Mall, Cincinnati, OH
Description THE KING OF AFRICAN DANCE

Ricardo started dancing at the age of 8. He has a dance background in jazz, ballet, tap dance, Indian dance, hip hop, merengue, bachata, and salsa. He has been performing in various countries for over 14 years.

In 2010, he was selected to become a Zumba®️ Jammer, In May 2011, Ricardo became a Zumba®️ Educational Specialist.

He presented at the 2010, 2011, 2012, 2013 2014, and 2015...and 2022 Zumba®️ Instructor Conventions...
Event Participants: Open to Public
Walk-Ins: Accepted
Event Language: English