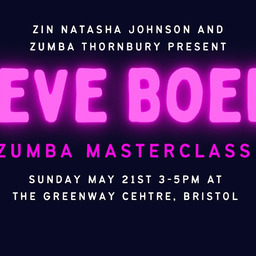 *SOLD OUT* Zumba® Master Class with Steve Boedt
at The Greenway Centre, Bristol, Gloucs.
Description Steve Boedt is flying in to bring you a 90 minute Zumba experience you will never forget. His classes are full of energy, easy to follow, always fun and you will finish the class immediately wanting to know when the next class is! He is incredible! There will also be tracks presented by the host Natasha Johnson with local Zins, a rare opportunity to book a photo shoot with Sarah Kane and Zumbabear for sale all in the same afternoon!
Event Participants: Open to Public
Walk-Ins: Not Accepted
Event Language: English