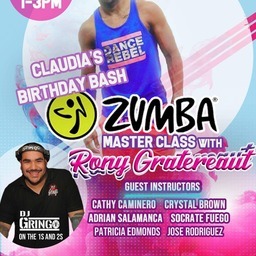 Zumba® Master Class with Rony Gratereaut and Dj Gringo
at nZone, Chantilly, VA
Description Come join us for a special 2 hour master class with International Zumba Instructor and Zumba Jammer, Rony Gratereaut and Zumba's very own Dj Gringo in Chantilly, VA! Local guest instructors will also be joining us on stage!

Tickets are $25 at the door if it hasn't sold out by then!
Event Participants: Open to Public
Walk-Ins: Accepted
Event Language: English
Event Tickets
Register Now Tickets sold by outside vendor. You will be redirected to a third party site.