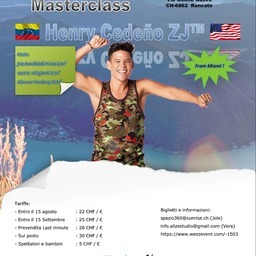 Zumba® Master Class con Henry CEDEÑO
at Palestra del centro scolastico Rancate, Rancate, Ticino
Description Henry Cedeño è uno ZJ™ (coreografo per istruttori) di fama internazionale. È stato il più giovane a formarsi come istruttore ed uno dei rarissimi a potersi vantare di appartenenere allo Zumba® Instructors Network da oltre 12 anni.
Alla Convention annuale per Istruttori Zumba®, presenta il workshop "Queen Bey Experience". È apparso su molti video e materiale per istruttori al fianco di Beto Perez, creatore di Zumba®.
Per la prima volta in Ticino, sarà protagonista di un'attesissima MasterClass.
Event Participants: Open to Public
Walk-Ins: Accepted
Event Language: Italian
Event Tickets
Register Now Tickets sold by outside vendor. You will be redirected to a third party site.