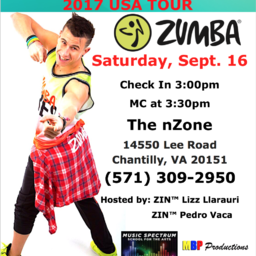 Zumba® Master Class with Seluco Fernández and MBP Team
at The nZone, Chantilly, VA
Description MBP TEAM (MOST BEAUTIFUL PEOPLE / MUY BUENAS PERSONAS)
The founders of MBP are Bella Almeida and Pedro Vaca. MBP started two years ago when the founders shared their vision of having a Zumba® Team that collaborates with instructors, students, businesses and foundations to give back to the community and through Zumba® help those in need. We will like to introduce our special guest from Spain the amazing Seluco Fernández who will be performing at the 2018 Zumba® Convention Fitness Concert.
Event Participants: Open to Public
Walk-Ins: Accepted
Event Language: English
Event Tickets
Register Now Tickets sold by outside vendor. You will be redirected to a third party site.