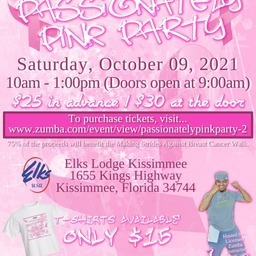 "Passionately Pink Party" Zumbathon® Charity Event
at Elks Lodge Kissimmee, Kissimmee, FL
Description Breast Cancer has been very prevalent in my family.
I've lost my grandmother, great aunts, and aunts, but, at the same time, I have family and friends who are strong survivors.
That being said, this cause means a great deal to me.
I just want to continue to do my part to help further the attempts to finding a cure so that no one else has to experience any loss!
Let's ZUMBA for the cause!
Event Participants: Open to Public
Walk-Ins: Accepted
Event Language: English