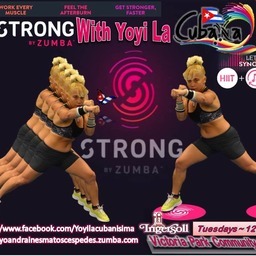 Multi Day Zumba® Event: Strong by Zumba™ With Yoyi La Cubana .
at Victoria Park Community Centre, Ingersoll, Ontario, Canada, ON
Description Presented By Strong by Zumba™Licensed Instructor: Yoandra Ines Matos Cespedes
Combines body weight, muscle conditioning, cardio and plyometric training moves synced to original music that has been specifically designed to match every single move. Sessions starts on September 10th, 2019
All U NEED: Cross-Trainer Tennis Shoes, Floor Mat, Gloves(Optional for floor exercises), Towel, H2O (A lot).
Event Participants: Open to Public
Walk-Ins: Not Accepted
Event Language: English
Event Tickets
Contact the Event Host for ticketing information