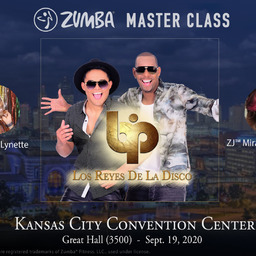 Zumba® Master Class with Grupo BIP (Kansas City Zumba® Fest)
at Kansas City Convention Center, Great Hall (3500), Kansas City, MO
Description Get ready to party!!

Experience Zumba® Gold, Zumba® Toning, and STRONG by Zumba® classes, followed by special Zumba® Master Class featuring special guests, ZJ™ Miranda Contreras, ZJ™ Ana Delgado (Anita), ZES™ Laura Angel, ZJ™ Jaime Ortiz, ZJ™ Eddie Torres, ZIN™ Fefe Lynette, and ..drum roll please....GRUPO BIP!!!

Join us Sat., Sept. 19th, 2020 at the Kansas City Convention Center, downtown Kansas City, Missouri.
Open to the public; ALL ARE WELCOME!
Event Participants: Open to Public
Walk-Ins: Accepted
Event Language: English