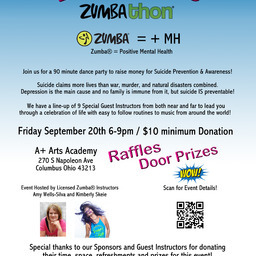 Dance4Life Zumbathon® Charity Event for Suicide Prevention and Awareness
at A+ Arts Academy, Columbus, OH
Description We are having a 90 minute dance party to raise money for the American Foundation for Suicide Prevention (AFSP). We have a FABULOUS line-up of Special Guest Instructors ready to dance and lead you through this celebration of life! There will be Door Prizes and Raffles, Bouncy Houses for the kids, and all proceeds will go to the AFSP!

Doors open at 6pm
Dancing begins at 6:30pm
Minimum Donation $10

Be ready to dance, sweat, and have a great time while raising money for a very worthy cause!
Event Participants: Open to Public
Walk-Ins: Accepted
Event Language: English