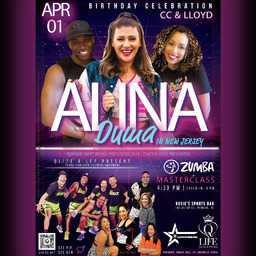 Zumba® Master Class With Alina Duma
at Rosie's Sports Bar, Newark, NJ
Description Join us for a very special Zumba Master Class with Alina Duma, back in New Jersey to celebrate the birthdays of CC and Lloyd! Alina is the winner of Zumba's Next Rising Presenter 2019 and a ZINCON 2023 Presenter.

Schedule:
Commercial Dance Workshop: 2 PM (check-in @ 1:30 PM)
Zumba Master Class: 4:30 PM (check-in @4 PM)

About Alina's Commercial Dance Workshop:
Learn the hottest moves that you can apply in classes or at parties. They are easy-to-follow and in the style of Afro and Reggaeton.
Event Participants: Open to Public
Walk-Ins: Not Accepted
Event Language: English